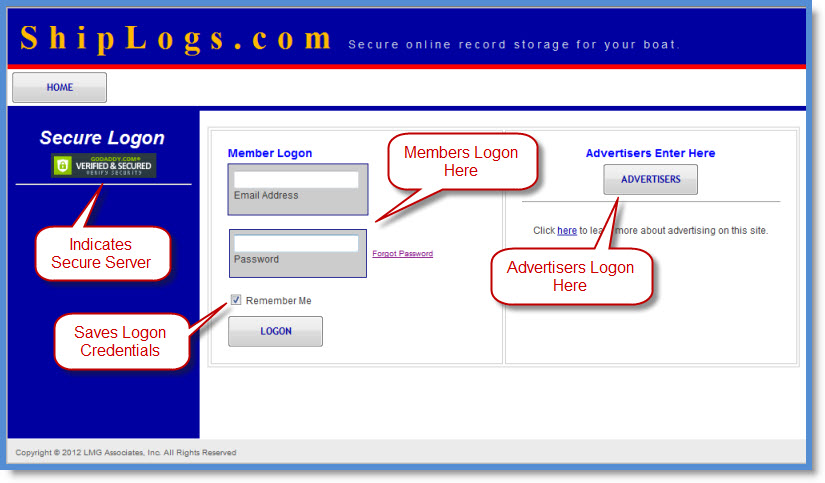 The Logon Page
The ShipLogs.com Logon page allows access for both members and advertisers. In this tutorial, we'll cover member logon only. Your logon consists of your email address and the password you entered when you registered at ShipLogs.com.
For fast logon, you can check the "Remember Me" check box and ShipLogs.com will remember your logon credentials for the next time you logon.
CAUTION - Do not check this box if you are using a public terminal such as in a library or other public facility.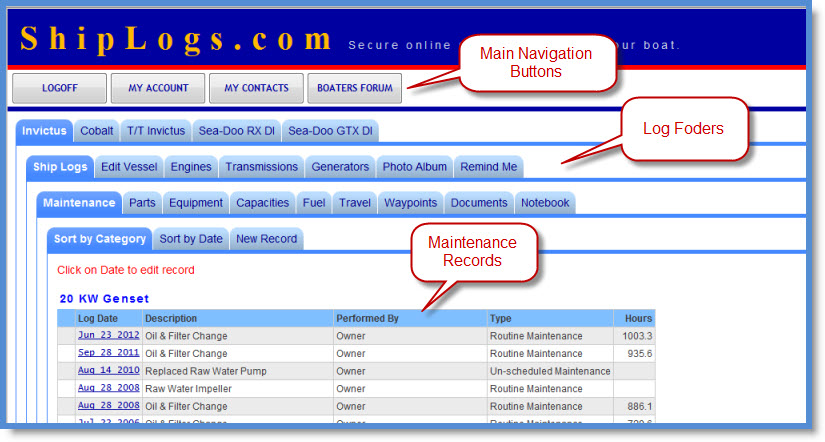 Default Home Page - Top
Once you logon, you'll be taken to the default Home Page. Near the top of the page, you'll find the Main Navigation Buttons. These buttons allow you to navigate through the various general functions of ShipLogs.com.
Below are the ShipLogs Folders. Notice that some of the tabs are highlighted. The highlighted tabs allow you to quickly identify where you are at all times. In this example, we are looking at the vessel named "Invictus". ShipLogs.com supports up to Five Vessels and defaults to the first vessel in your list.
The next default is the set of Ship Log Folders. Since most of the time, you'll be entering maintenance records, ShipLogs.com defaults to the Maintenance Folder. At this point you have several options. You can click on the underlined date to view and edit the maintenance record or you can choose to add a new record. In addition, you can choose to sort your records by category or date.
This theme continues throughout the website. Simply click on the tab of interest and you'll be moved to the supporting page. ShipLogs.com does all the orginazitional work for you.
Main Navigation - Top
These buttons are used for functions that are not affiliated with any particular vessel. Please remember always "LOGOFF" when you are finished with your session. This is important to prevent unauthorized access to your records.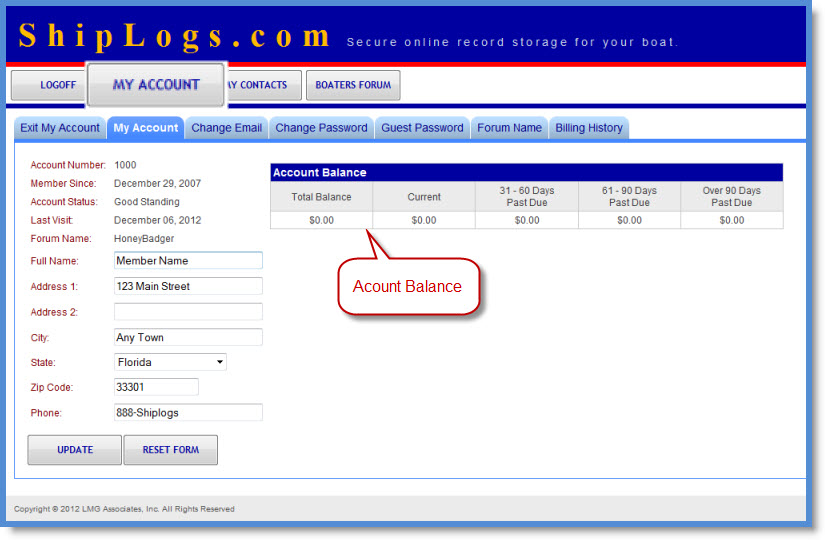 My Account - Top
My Account allows you to view and edit your personal account information. Here, you can change your email address, password and forum name. Your Account Balance is displayed along side your personal information.
You may also want to setup a guest password. A guest password allows your guest to access your records on a read only basis. No changes are allowed and none of your personal account information is displayed.
Example: Suppose you are selling your boat and you want to make your records available to a prospective buyer. You can setup a temporary guest password and then delete it whenever you want.
My Contacts - Top
My Contacts provides space for a diretory of your favorite contacts including email addresses and website links.

Boaters Forum - Top
Stay in touch with other ShipLogs.com members by joining the "Boaters Forum".
---
We hope this brief tutorial has provided insite to the many features of ShipLogs.com. ShipLogs.com is very easy to use, but the best way to learn is to give it a try. You are under no obligation should you decide ShipLogs.com is not for you.